Moderator: TMAX

58 Bedford House
---
Posts: 770
Joined: Fri Apr 09, 2010 5:17 pm
Location: Oklahoma
Contact:
Hope the software can be updated soon. Kinda sad to have all those error messages floating around...
---
Hello All. As threatened earlier I'm going to try to update things a little. I am not much of a computer guy so I'll apologize first if my post doesn't work-- I'm trying to copy and paste a word doc. Next I'll apologize for being so wordy should it happen to post. Jack
[url=https://postimg.cc/kDsYTn1Y][img]h ... .png[/img]
[/url]
Well, none of that worked. Can someone tell me how to deal with a word doc? Thanks, Jack
---
A continuation of the last posting try. Better luck this time but still no pics.
Band-aids and stuff.
Figure I might as well get the bad stuff out of the way first. In my last post of 2018 I was just heading out for a Christmas camp out—it was the only excuse I could find to keep from having to attend another boring and seemingly never ending family affair. We stayed at a natural hot mineral water "spa" near Death Valley. It never occurred to me that a scorpion would take warm refuge in the RV electric hook up box until I had been stung twice on the left arm I was using to prop open the electric box—ouch!
Late in Jan, '19 my buddy while preparing to "steam clean" the upholstery in my new to me Tahoe as a return favor for my work on his son's Honda found the release latch for the spring loaded rear seat. He released it just after I had stuck my head in its path. The seat corner whacked my head just above and in front of my left ear. My eyes rolled around like they were in a pinball machine. Wifey dragged me to the ER where I was told I had a class I concussion and to take it easy for a week—ouch.
In May, '19 just before our annual week in Yosemite National Park I managed to kick one of the legs on an oak futon I was passing in the dark braking two bones in my foot. I'll blame that on my wife because she moved the futon—never mind that it was over 10 years ago when she did. We went camping anyway and I gimped around in my cast and managed to enjoy the scenery.
Still one more to ring out the old year. My buddy (same one as above) needed some help replacing the electric fuel pump on his too low to the ground '56 Chevy truck. I backed my Tahoe under the open garage door and lifted my floor jack into the back and closed the hatch. Just then I spotted the replacement fuel pump sitting on a short stool about 5 feet away. I cursed my stupidity, re opened the hatch, walked over to retrieve the pump, turned around and promptly drove the top of my head into the corner of the not completely open hatch. What I remembered next was wifey and the paramedics looking down at me with concerned faces and realizing my hair and collar of my shirt seemed stuck to the ground. I simply don't remember the cat scan or the MRI or much of anything else during that first day (except the raging headache and inability to track with both eyes). 'Ol sawbones informed me that I had a class III concussion this time with brain bruising and a cracked skull and that I'd better try not to do it again—Duh. A month later I still have an occasional slight headache and my vision is mostly normal again and I have a little project I want to start on my bus so I guess I'll get started.
Fate had other plans for me. One year and one day after buying the Tahoe It was soundly rear ended while we sat waiting for traffic to clear. The Tahoe was shoved into the car ahead of us so it is mashed both front and rear. Fortunately, none of us was seriously injured. I managed to snap a pic of the car that started it all.
[img]
https://i.postimg.cc/WpmXyz8Q/20200108_081805.jpg
[/img]
The repair estimate for the Tahoe is over $8,000 so the insurance guys are still trying to decide if it should be fixed or junked—we'll see.
Meanwhile, back at the bus, here are a couple of pics of two upgrades completed in 2019. The first is the installed BB1230 battery charger and the second is the air pressure gauge related to the new digital air pressure regulator I added to the compressor. The regulator maintains my desired pressure of 60# within +/- 2 PSI.
[img]
https://i.postimg.cc/WpmXyz8Q/20200108_081805.jpg
[/img]
Our annual October trip to Yosemite was mostly just more of the beautiful same as was our early November trip to Lake Mead Nevada. We did encounter cold (for us) weather on the way to Lake Mead with night time temps at freezing. I discovered that the sections of uninsulated water lines in the bus had dropped to 2*C but hadn't frozen. That started me off learning about heat cable. It is pretty cool stuff. It amounts to a pair of stranded wires separated from one another by a carbon based temperature responsive jell. The jell contracts as it cools which brings the carbon molecules closer together thereby allowing a flow of electrons between the parallel + and – wires which produces heat. When the cable heats up the jell expands, the carbon molecules spread out and current stops flowing between the wires all done in a self regulating manner. The heat cable came with no information other than it was 12 volt so I concocted a couple of tests to see just how many amps it drew. I was pleasantly surprised to find that at full draw it used only 2.7 amps/meter and produced a max temp of 107*F. There are two sections of water pipe not properly insulated so I installed a dual thermostat control that turns the power on at 3*C and off at 8*C to keep the pipes from freezing. There wasn't much room for insulation where the pipes were installed but I was able to add some spray foam to cover them somewhat.
[img]
https://i.postimg.cc/Hsb204VJ/20200109_144159.jpg
[/img]
When I built out the bus I installed two water pumps. One pump for cold water and one for hot because the on demand water heater required constant water flow and pressure to operate. Functionally that worked fine. However, when I wanted a mix of hot and cold water at the tap both pumps ran for short bursts producing water pump based version of dueling banjos that set my teeth on edge. The cure was the installation of an accumulator tank on both water lines—no more dueling banjoes!
[img]
https://i.postimg.cc/DZDg6xrG/20191219_ ... urst01.jpg
[/img]
My first project for 2020 was the installation of a medicine cabinet in the wet bath. I wanted an all plastic unit with a glass mirror and I finally found one. Cheap at $16 at Home Depot. I narrowed the cabinet and mirror by 3" and fit it in the bath wall over the sink. I now have no more excuses for not shaving just because we are camping.
[img]
https://i.postimg.cc/DZDg6xrG/20191219_ ... urst01.jpg
[/img]
[img]
https://i.postimg.cc/bJdg17t8/20200103_145301.jpg
[/img]
Well, that sort of brings things up to date as of 1/25/20. Jack
---
Posts: 770
Joined: Fri Apr 09, 2010 5:17 pm
Location: Oklahoma
Contact:
Well, that certainly beats all the bumps and bruises I have had for a while. Thank goodness - for me! Sorry for you!

The medicine cabinet looks good - like it was made for that. I was able to copy/paste the links and one image came up to see.

Yosemite is gorgeous! It has been too long since last visiting. Got to get back there!

I used 120vac heat tape on the trailer water supply for 12 years while living full time in it. They are great things to have! I used pipe insulation tubes around the hose, then sewed a sleeve out of the vinyl used for boat tops and it lasted well the whole time. Had to replace heat tape once. By the end, the vinyl was starting to get a little stiff, but had not cracked. Survived one tornado destruction event, too!

Hope things are smoother this year! Always good to hear about the adventures - let's me live 'vicariously' through others who are getting to do some travel and camping!
---
Hello All. Despite the world wide medical crisis I spent a pleasant long afternoon session with my little bus. I decided it was time to check how my house batteries were holding up, do a little cleaning and top off the water in the batteries. I removed the side cover panel, released the battery tray slide stop and had a look. I couldn't have been happier. I've had the Progressive Dynamics Inteli-power taking care of the batteries when parked and a Sterling Power B to B charger working the drive time for a little over a year now and both have done what they were supposed to do. I dusted off the batteries and checked for loose terminal connections and acid leakage. Everything was A-OK! What a treat! I didn't even have to add water to the batteries. I'm pretty simple minded so just sitting in my bus gives me pleasure. In this complicated and stressful time I hope that all of you will take the time to find some pleasure from some simple things. Thanks, Jack
[img]
https://i.postimg.cc/FzQRcywD/20180923-135502.jpg
[/img].
---
Posts: 770
Joined: Fri Apr 09, 2010 5:17 pm
Location: Oklahoma
Contact:
Always nice when things work the way you want them to!

I keep forgetting to ask - and this is open to anyone with a bus. My long term insurance company - won't say who, but Jake is wearing khaki's - has seen fit to truly hose me on insurance! I stopped it for about 3 years while it has had some problems that I couldn't attend to, so just sat for those years. Now, going back for quote, it is about 5 times the price from those long lost halcyon days!

Jack, do you, or anyone else out there have any recommendations or good things to say about an insurance company? Would love to hear, if so! Bad things are ok, too, if you just wanna vent, but I suspect I could outdo at every turn...!
---
I've been with Good Sam's since the start. My coverage is only for the other guy--no collision or comprehensive so my policy doesn't draw undue attention. I know how hard it can be to find coverage so I watch my expiration date like a hawk. I also have towing with GS but have never used it. The rate is about the same as for my car with the same coverage from another company. Jack.
---
Just a quick test to see if I can now post pics. Jack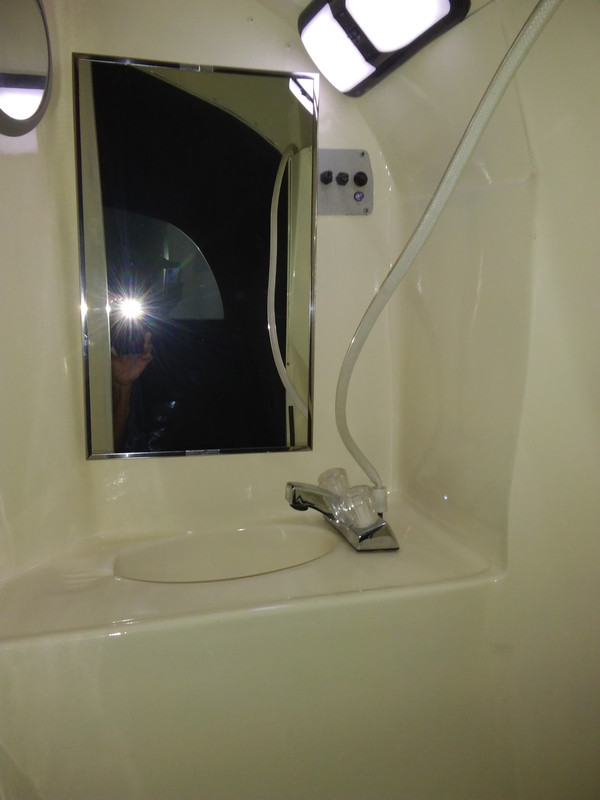 .
Thanks Stuart! Too much fun even my earlier pics that just showed a link show pics now!. Jack
---
HONEYSUCKLE ROSE GOES TO KOA
Wifey wandered in from her gallery last evening with this water color of a school bus in the rain. She told me that it is similar to a painting by Merve Corning which became a cover picture on a 1970's Westways (AAA) magazine.
Because of cv19 we haven't been able to camp and the painting got me hunting for a way. As it turned out this next week will bring the reopening of a local KOA and we got a spot--face masks and all! Jack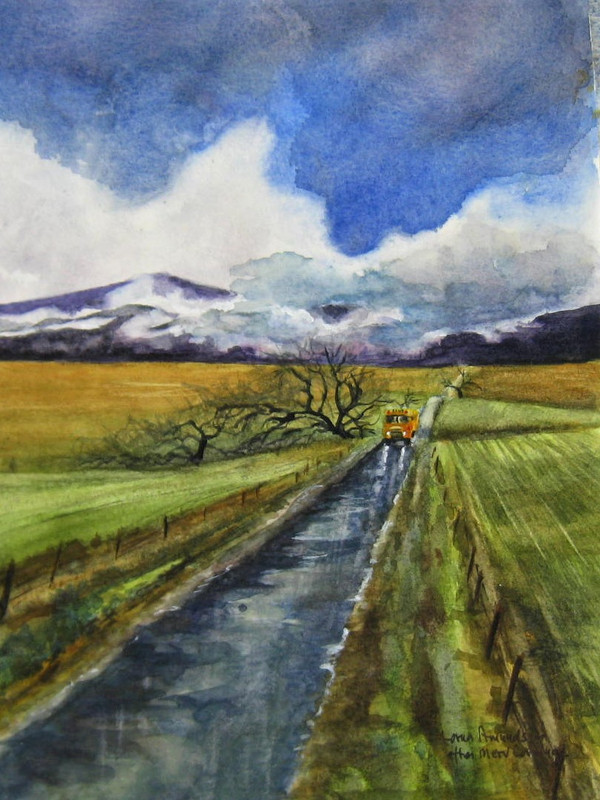 .
---
Users browsing this forum: Google [Bot] and 6 guests