ive been a lurker here for awhile, thought i had posted here before but guess i didnt. so here goes
about 5-6 years ago my dad and i got the idea of getting a school bus and converting it using everthing we could out of his 95 34ft fithwheel that had devolped a leak in the roof and rotted the wall. ever since then ive been hooked. i didnt find this site till after we did the bus. using graph paper and pieces of paper cut to scale i mocked out the inside of the bus. it took the better part of the winter to finish the inside, by spring we were ready to add a 5 ft. porch off the back for a genie and in the fall we added a deck to the top, compete with fold down railing.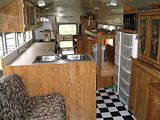 I thought i had pics of the deck but guess i lost them. it covers half the roof on the back of the bus. the only heat we have is the roof top air unit has a heat strip in it. we dont really camp much except in the summer so wasent really a need for it.